9.6 FT Height Inversion Yoga Swing Stand
Free & Fast Shipping

Take advantage of our free shipping offer within the USA and experience fast order processing and shipment. With most orders fulfilled within 2-5 days, you can receive your items in no time. Please note that heavier items may take an additional 2-3 days for processing.
90 Days Money Back Guarantee

We want you to be completely satisfied with your purchase. If for any reason you are not, you have 90 days from the delivery date to return your purchase for a full refund, no questions asked. Simply send us an email at [email protected] to initiate the return process.
Description
Additional information
Reviews (1)
Description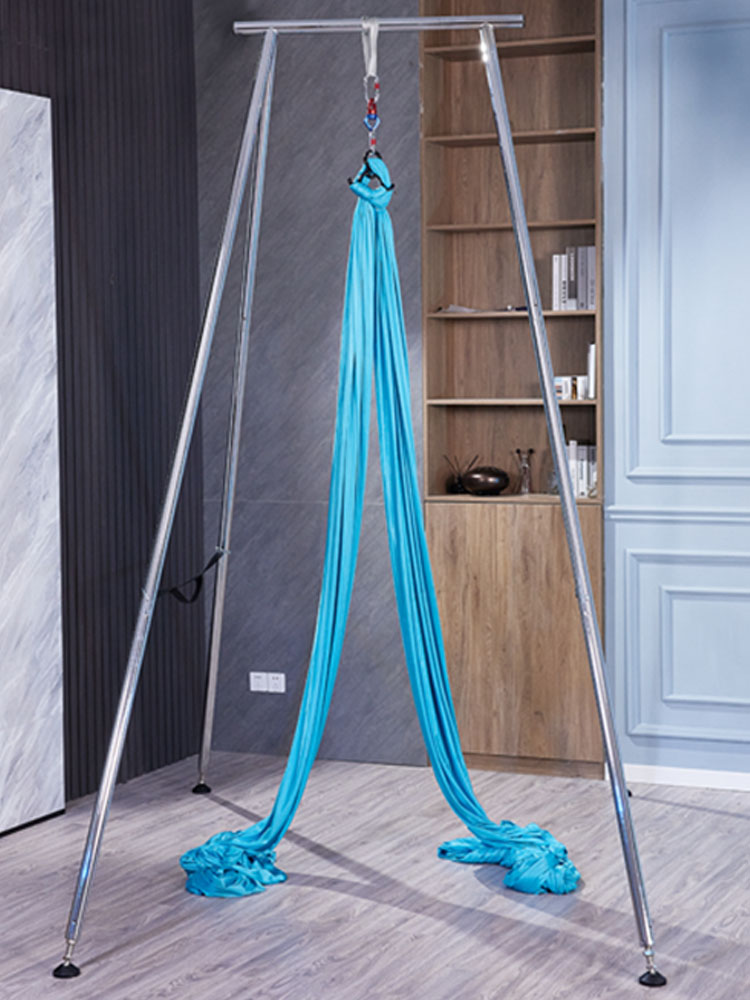 The Portable Indoor & Outdoor Aerial Yoga Frame
Secure & Durable & Convenient
Are you looking for a safe and reliable aerial yoga frame? This yoga stand requires no screws to connect the steel pipes, and the threaded rotary connection, removal, and installation only take a few seconds, which is portable and safe. The aerial yoga frame has a special base design for added safety, making it safe and convenient whether you want to perform aerial dance and yoga exercises indoors or outdoors.
Stable & Safe
Tough Stretch Fabric
Lightweight & Portable
Easy To Assemble
Key Features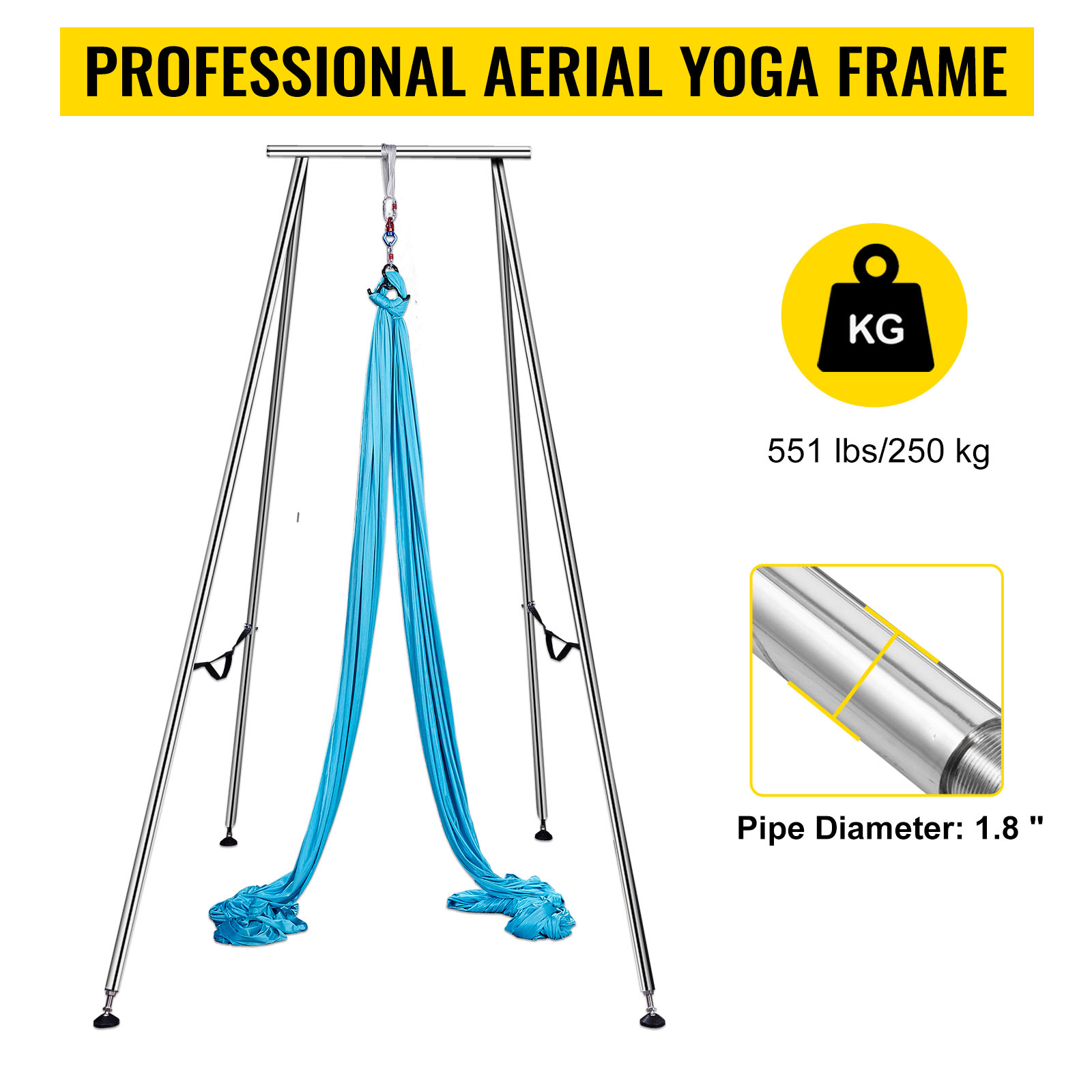 Professional Aerial Yoga Frame
This bracket is made of sturdy steel pipe, with a maximum load capacity of 250 kg/551 lbs, and a detachable and portable design, which meets our needs where we go and where we exercise.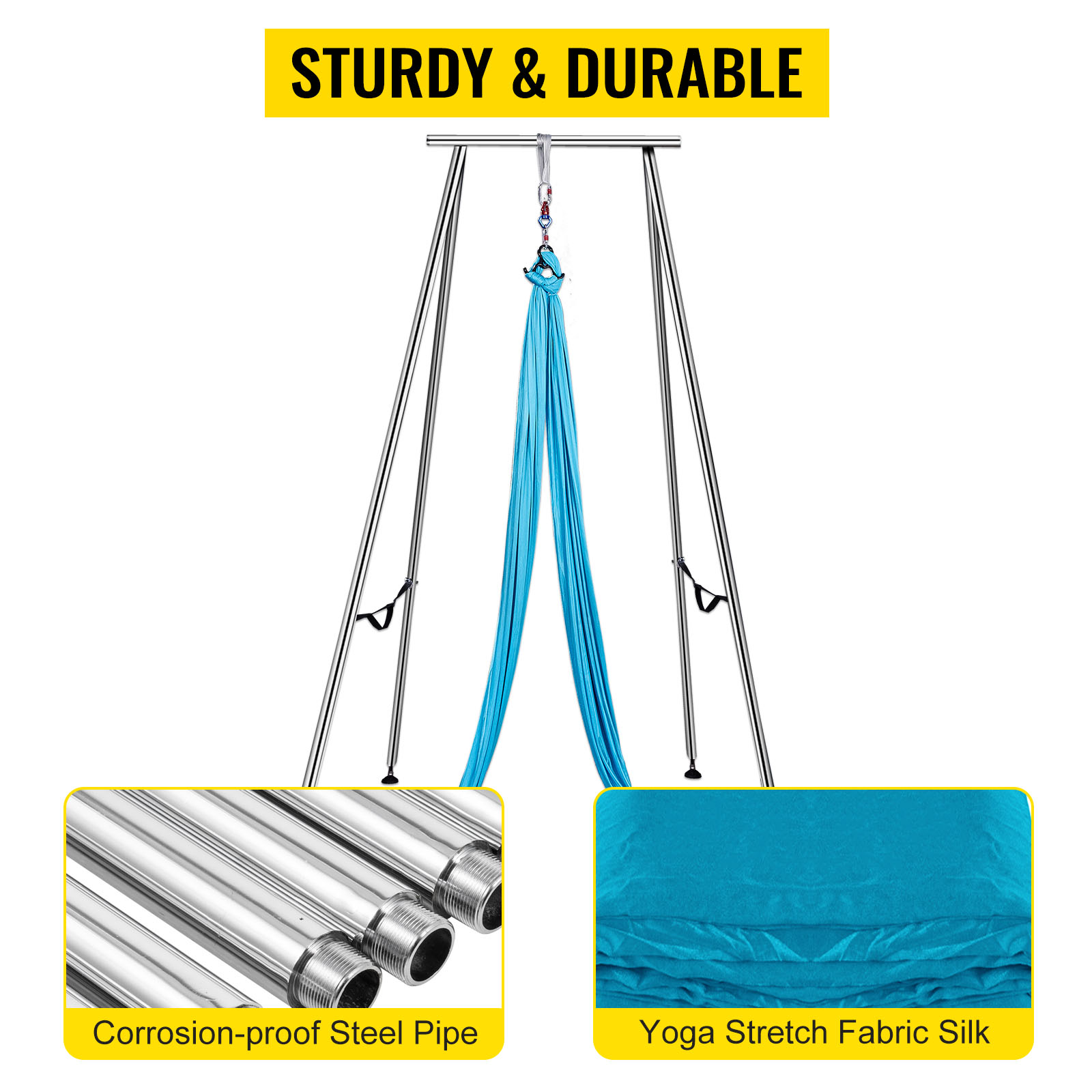 Sturdy & Durable
Built with corrosion-proof steel pipe and fabric silk with high elasticity. Both the frame and fabric silk have a long service life and give you a comfortable exercise experience.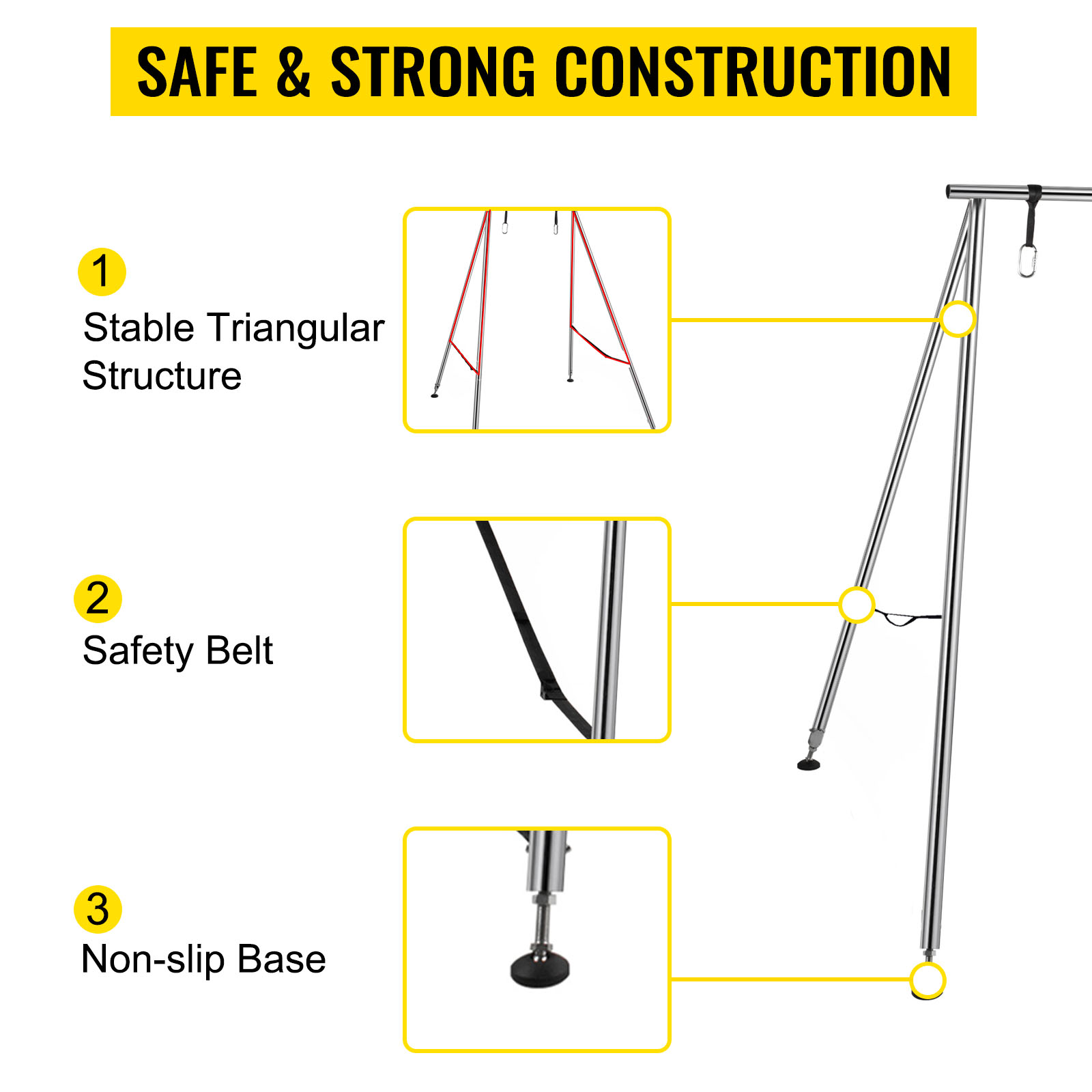 Safe & Strong Construction
The side of this bracket has a stable triangular structure. The presence of a safety belt prevents the bracket from sliding. The bottom of the non-slip foot-pad increases friction and has a better grip.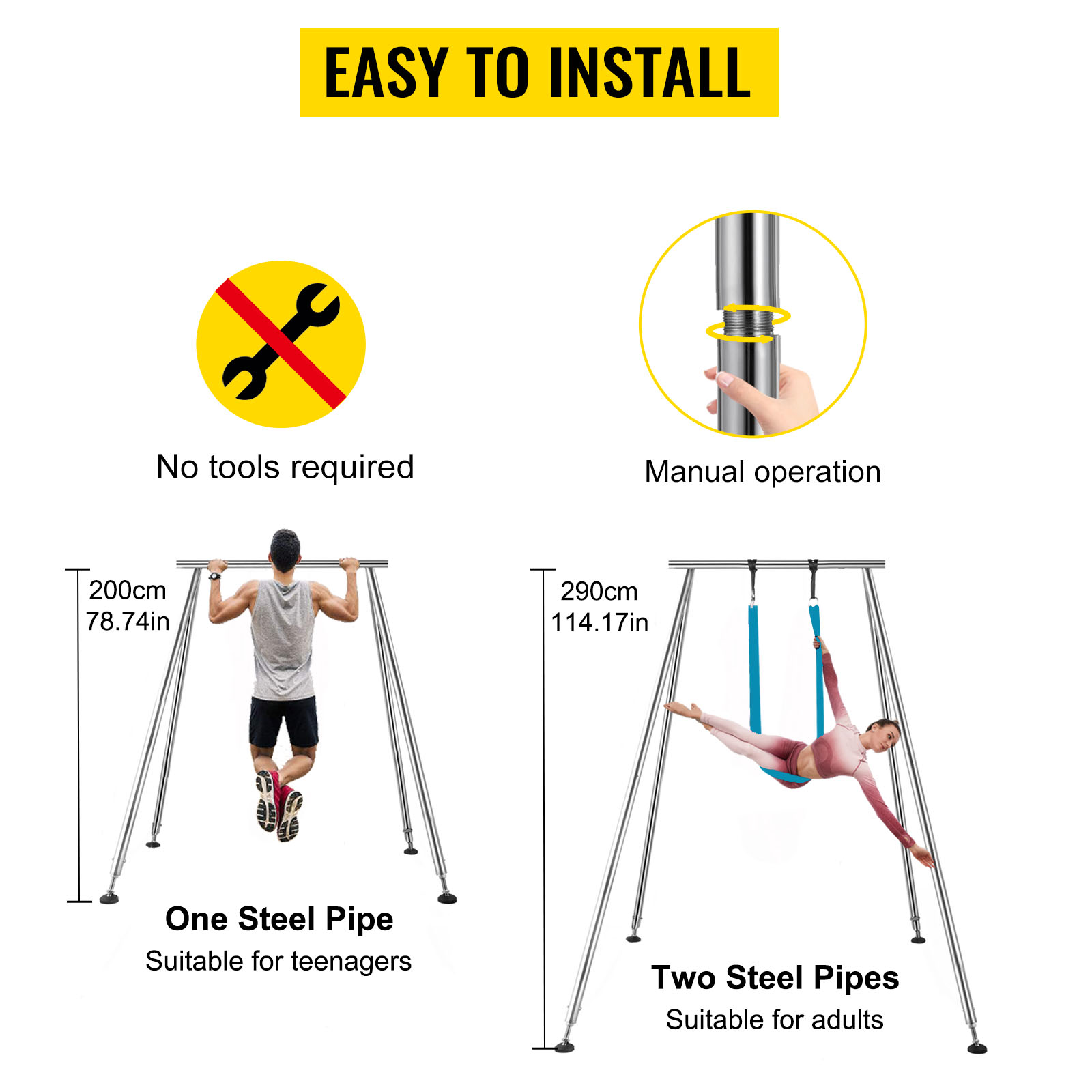 Easy to Install
The bracket is composed of beams and supporting steel pipes. The structure is simple, and the installation and removal are very easy. 1 or 2 people can quickly complete it in a few minutes.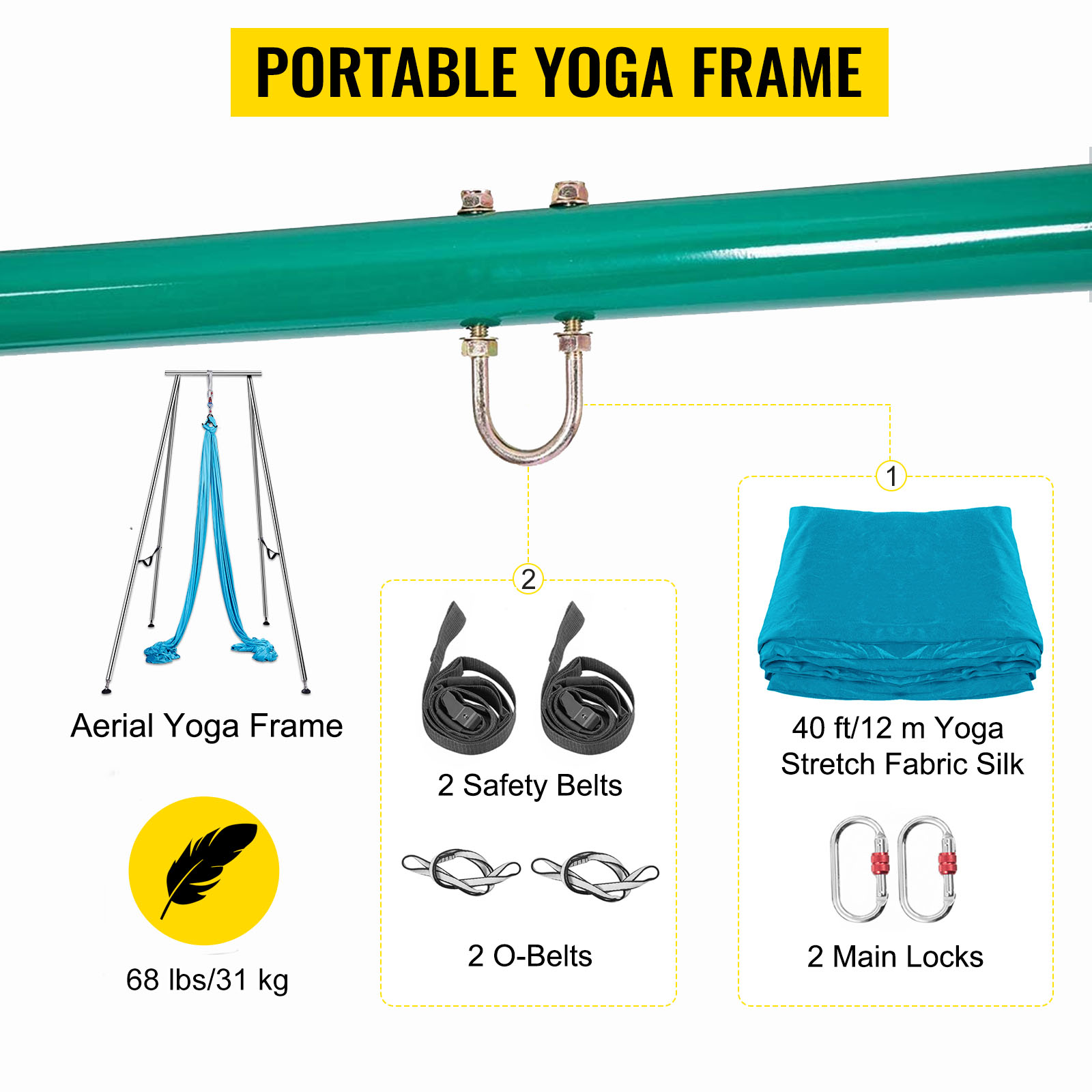 Portable Yoga Frame
We provide a 12 m/472″ blue yoga stretch fabric, an 8-shaped universal ring, a bull headlock, an O-belt, 2 main locks, and 2 safety belts, ready to use and no waiting for exercise.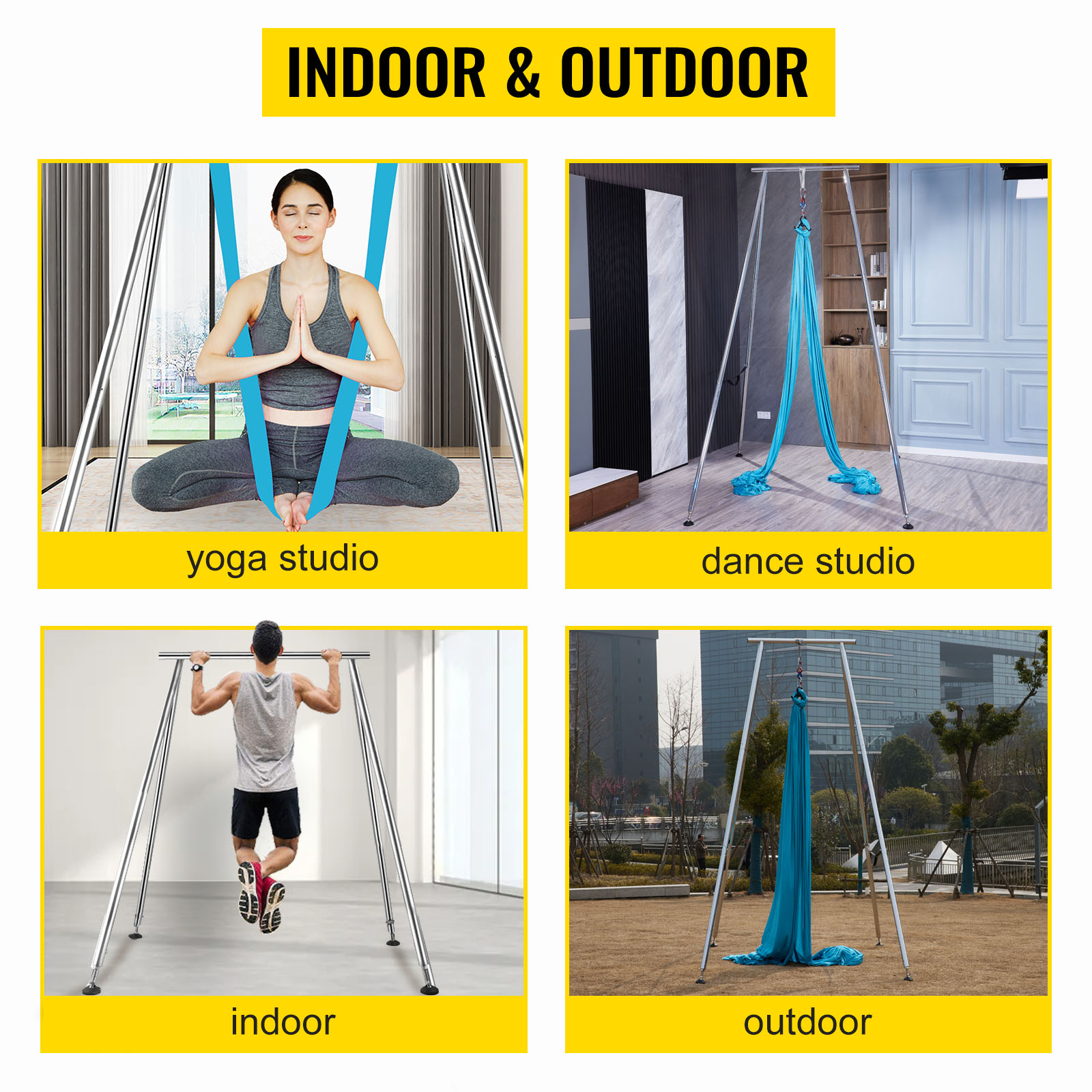 Indoor & Outdoor
This bracket is very versatile, can be used in aerial yoga, aerial dance, Olympic rings, hammocks and as a pull rod or swing frame.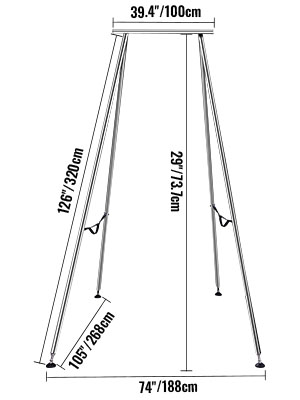 Specifications
Material: Steel
Steel Pipe Diameter: 45mm/1.8″
Steel Pipe Thickness: 1.5mm/0.06″
Weight: 33kg/73lbs
Maximum Load: 250kg/551lbs
Bracket Size(LxWxH): 2.68m x 1.88m x 2.93m/106″x 74″x 115″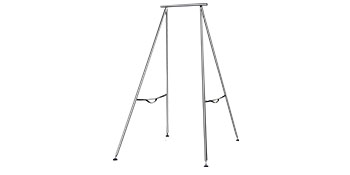 Package Content
1 x Aerial Yoga Frame
1 x 12m/472″ Blue Yoga Stretch Fabric
1 x 8-Shaped Universal Ring
1 x Bull Headlock
1 x O-Belt
2 x Main Locks
2 x Safety Belts
Features & Details
Stable & Safe: Triangle structure increases stability; safety belt increases friction; non-slip base ensures stability. All these humanized design ensure security and stability during the exercise.
Tough Stretch Fabric: The yoga stand comes with a 12 m/472″ length blue yoga stretch fabric, 8-shaped universal ring, bull headlock, and O-belt. The soft and rough fabric has the super load-bearing capacity and good elasticity to give you a great yoga experience.
Portable Yoga Stand: This 33 kg/73 lbs yoga swing stand is made of 1.5 mm/0.06″ thick steel pipe. It has high hardness and 250 kg/551 lbs high load-bearing capacity to meet your various needs.
Easy to Assemble: This indoor/outdoor yoga trapeze stand steel pipes are all threaded rotary connections, without any screws and other installation tools, so it is very convenient to install and remove, and 1 or 2 people can quickly complete the installation in 15 minutes.
Multiple Usage: The bracket is 2.68 m/106″ length x 1.88 m/74″ width x 2.93 m/115″ height, and the size is suitable. It can be used for indoor or outdoor performances or yoga exercises.